VRF multifunctional air-conditioning systems Flexible system solution for large buildings and building storeys
The flexible air-conditioning system for sophisticated construction projects
For the realisation of complex air-conditioning concepts, REMKO offers an efficient and flexible system solution in the form of the VRF multifunctional air-conditioning system of the MVV series. During the operation of conventional single-split air-conditioning systems, it is necessary to install an outdoor unit for every indoor unit installed. Greater area and line requirements are the result. This is where the VRF multifunctional air-conditioning system begins. With only one efficient outdoor inverter unit, the system can operate up to ten indoor units. For the cooling and heating operation of all indoor units, only 2 refrigerant lines must be installed. This minimises the planning effort, costs, and time. You thus achieve the highest degree of efficiency and flexibility.
Maximum refrigerant line length 200 m
Cooling or heating of up to 20 rooms
Easy installation of the dualconductor technology
Efficient inverter technology
Centralized control of all indoor units
Up to 40 kW cooling capacity available in Duo mode
Double power ahead!
In case more output is required, REMKO offers the VRF multifunctional air-conditioning system DUO. With this system, the total output and number of indoor units to be operated double. 24 kW, 31 kW, or 40 kW cooling output guarantees that up to 20 indoor units can be operated at once.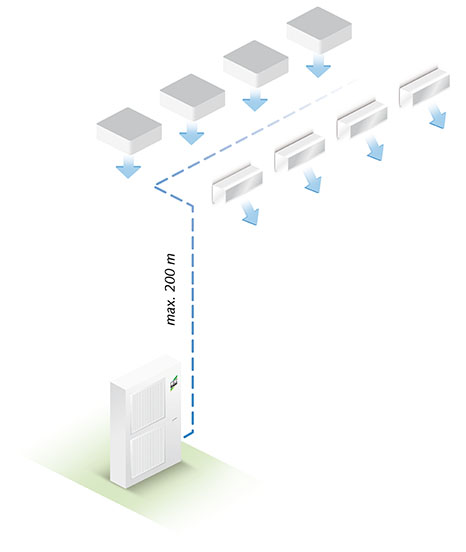 The centralised control system for all indoor units
The MCC-1 multi-central controller is the perfect central control point for the VRF multifunctional air-conditioning systems of REMKO.
The cabled remote control lets the user control up to 64 indoor units individually. By opening the protective cover, you can access the easy-to-survey control panel. Using the control panel, functions like operating times, service parameters, temperatures, and so on can be controlled or read individually for each indoor unit. In the process, up to four switching times can be programmed for each calendar day. To prevent access to unauthorised persons, the buttons, operating modes, or remote controls of the indoor units can be optionally locked.
Centralized control of a maximum of 64 indoor units
Setting of all functions like fan speeds, heating, cooling, and set values
Individual calendar entries possible for all units
Up to four programs possible for each calendar day
Polling of operating and service statuses
Extensive locking possibilities
Product range VRF multifunctional air-conditioning systems
Multifunctional air-conditioning systems
CheckServ - Customer service
For technical equipment handover, maintenance and completion of the air conditioning systems, you can add in the service CheckServ. REMKO supports you from planning to technical device handover to maintenance. This complete chain of services makes it easy to install even complex air conditioning systems.