VRF multifunctional air-conditioning systems Flexible system solution for large buildings and building storeys
The flexible air-conditioning system for sophisticated construction projects
For the realisation of complex air-conditioning concepts, REMKO offers an efficient and flexible system solution in the form of the VRF multifunctional air-conditioning system of the MVV series. During the operation of conventional single-split air-conditioning systems, it is necessary to install an outdoor unit for every indoor unit installed. Greater area and line requirements are the result. This is where the VRF multifunctional air-conditioning system begins. With only one efficient outdoor inverter unit, the system can operate up to ten indoor units. For the cooling and heating operation of all indoor units, only 2 refrigerant lines must be installed. This minimises the planning effort, costs, and time. You thus achieve the highest degree of efficiency and flexibility.
Maximum refrigerant line length 200 m
Cooling or heating of up to 20 rooms
Easy installation of the dualconductor technology
Efficient inverter technology
Centralized control of all indoor units
Up to 40 kW cooling capacity available in Duo mode
In case more output is required, REMKO offers the VRF multifunctional air-conditioning system DUO. With this system, the total output and number of indoor units to be operated double. 24 kW, 31 kW, or 40 kW cooling output guarantees that up to 20 indoor units can be operated at once.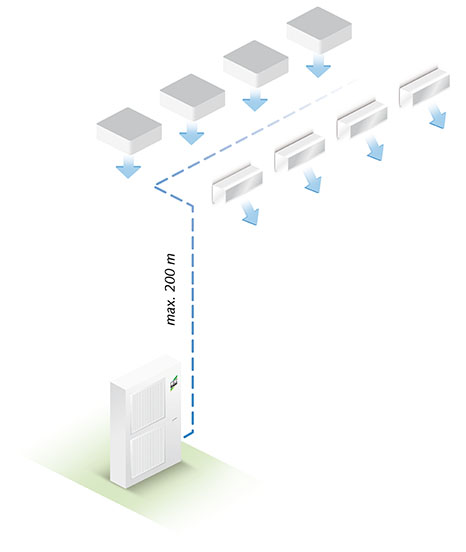 REMKO Smart-Control Touch SC-1 The smart controller for your air-conditioning system
REMKO Smart-Control Touch enables the control of all airconditioners in your home. Operation is possible from the central controller or using the mobile Smart-Web function from anywhere.
Using the intuitive user interface, time programs can be set for individual units or groups. In the process, the individual nomenclature provides the necessary overview. The Smart-Control Touch controller is integrated into your in-house Wi-Fi network. In connection with REMKO Smart-Web, all settings, such as reaching or changing the current room temperature, can be carried out conveniently using the mobile telephone or tablet.
The smart controller offers you a multitude of setting options that simplify the air-conditioning of your home.
Control of up to 64 indoor units
Installation using bus line
Internet integration thanks to built-in Wi-Fi module or RJ45 network cable
REMKO Smart-Web for mobile use - included
Creation of time programs
E-mail notification in case of a malfunction
Automatic switchover from cooling to heating depending on the outdoor temperature
Product range VRF multifunctional air-conditioning systems
Multifunctional air-conditioning systems
CheckServ - Customer service
For technical equipment handover, maintenance and completion of the air conditioning systems, you can add in the service CheckServ. REMKO supports you from planning to technical device handover to maintenance. This complete chain of services makes it easy to install even complex air conditioning systems.