Ceiling fan DVL 140/140 K
REMKO DVL SERIES Ceiling fans as a supplement to hot air heating systems
| | | |
| --- | --- | --- |
| DVL 140 | 570400 | 15.000 m³/h |
| DVL 140 K | 570401 | 15.000 m³/h |
---
REMKO DVL SERIES
Ceiling fans for reducing energy costs
Thermal dynamic pushes heat upward.
Result: Unused quantities of heat dam up near the ceiling. With the REMKO DVL 140 ceiling fan, this lost heat potential can be retrieved from the ceiling and returned to the work area. Valuable thermal energy is saved by this type of "heat recovery."
High ventilation capacity
Long service life
Quiet operation
Low energy costs
Single-phase a.c. motor, maintenance-free and malfunction-free for continuous operation
White housing, stove enamelled
Vibration-damping pendulum pipe suspension for low-vibration operation
Easy to assemble
Adjustable rotation speed (optional)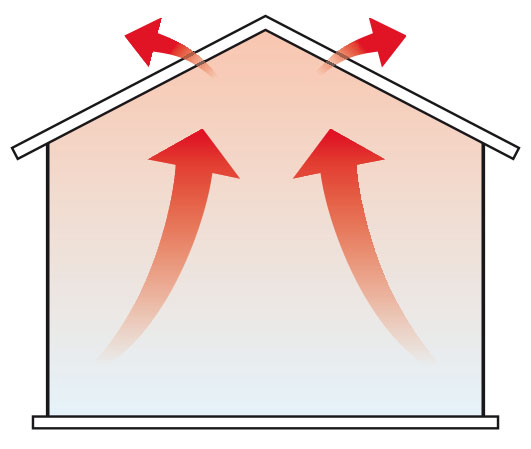 Based on the natural lift of hot air, most of the energy remains under the ceiling.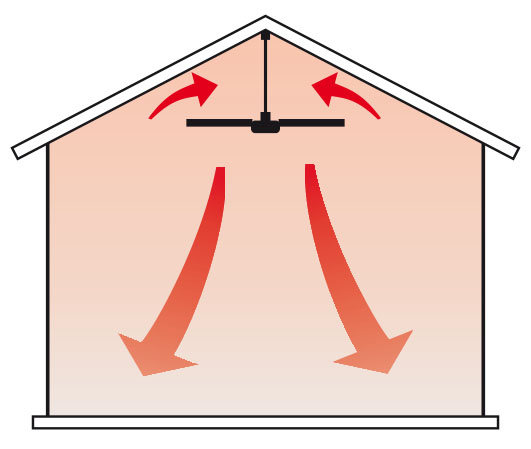 Through the use of a DVL ceiling fan, the warm air will be pushed downwards, constantly.
Technical data
| Variant | DVL 140 | DVL 140 K |
| --- | --- | --- |
Accessories / Spare parts
Für dieses Gerät wird kein Zubehör benötigt.
Für dieses Gerät stehen kein Ersatzteile zur Verfügung.
Heat requirement chart for heating systems
The diagram allows you to quickly determine the necessary heating power requirements of the hot air heating system to be used. It is based on a rough heat demand estimate for factories and similar buildings.