Air conditioning packages Wall-mounted units for cooling and heating
Room air to breathe
When temperatures rise in the summer, room air conditioners make sure you keep a cool head. The heat associated with humid air reduces human performance and overall well-being. Our stationary air conditioning units can be used to achieve the complete indoor climate solutions for offices and living spaces. This means you can look forward to any coming periods of hot weather without any concerns.
The complete package for the optimal room climate
In addition to cooling, REMKO air-conditioning packages offer all the important functions necessary for a completely healthy and comfortable room climate - regardless of weather or season. Modern inverter technology ensures maximum climate comfort with excellent energy efficiency.
Functions at a glance
Cooling:
Pleasantly cool indoor air at a constant temperature level
Dehumidify:
Moisture control for easy breathing on humid days
Filtering:
Improved air quality by filtering out dust particles
Air distribution:
3D swing function for a pleasant, even airflow
Heating:
Additional heating function thanks to integrated heat pump technology
Silent mode:
For particularly quiet device operation, e.g. at night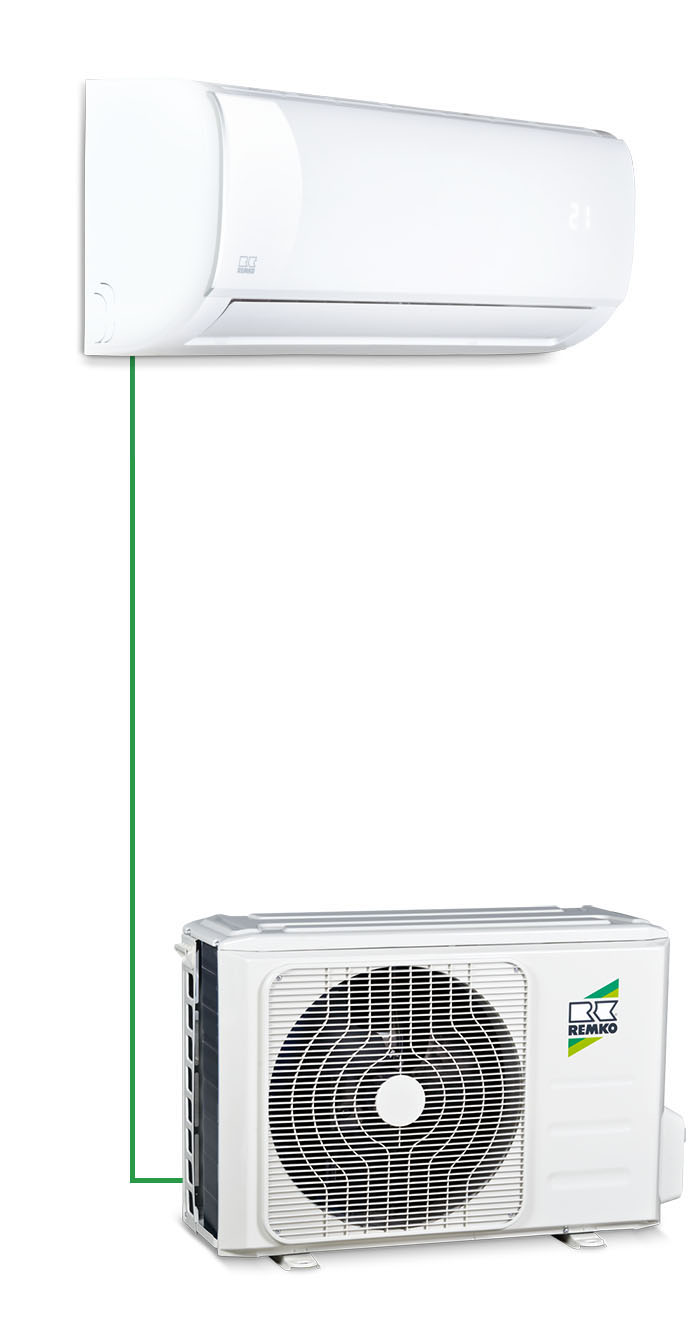 Split-System
REMKO air conditioning packages consist of one outdoor unit and one indoor unit (split version). The indoor unit is installed in the room selected to be air conditioned. The outdoor unit can be mounted outside on the wall, on the floor or on the roof.
Both components are connected to each other via a refrigerant pipe. For particularly simple and fast installation, the BL series is perfectly equipped through the help of a practical, quick-release assembly system.
3D swing function
The lamellae at the air outlet port modulate the air distribution by moving in horizontal and vertical directions. The cool or heated air is distributed evenly throughout the room.
For a constant room temperature, the devices also have a "follow-me" function. A temperature comparison between the device and the remote control allows the exact adjustment to the desired temperature, respective to the location in the room.
Product range Air conditioning packages
Quick-release mounting coupling
Cooling load calculation for air-conditioners
The following rule of thumb applies when calculating the cooling capacity:
Approximately 30 W of cooling capacity are required per cubic meter. The cooling capacity for a room with a surface area of 28 m2 and height of 2.5 m can be calculated as follows:
28 m2 x 2,5 m x 30 W/m3 = 2.100 Watt (2,1 kW)
We recommend that you always calculate the cooling capacity for the room precisely.