Mobile air purifier LRM 350-500
REMKO LRM SERIES Mobile air purifier
Variant
EDV-Nr.
Cleaning performance
REMKO LRM SERIES Mobile air purifier
Clean room air for a better sense of well-being
The mobile air purifiers from REMKO are used when maximum air quality is required. Foreign matter such as viruses, bacteria, aerosols, allergens, fine dust, smoke and mould are reliably removed from the room air using REMKO's 4-stage HEPA filter system. The integrated anion generator supports the cleaning process by generating negatively charged electronic molecules/anions. The effect of this process is that the smallest micro particles in the air are bound and can be filtered more effectively. The integrated air quality sensor determines the load on the room air and shows the current quality on the display. The LRM series is suitable for room sizes from 15 to 50 m².
Highly effective HEPA filter
Filters 99.975% of all viruses and bacteria
Allergy friendly - ECARF seal (LRM 500)
Integrated anion generator
Display to show the air quality
Timer function
3 fan speeds
Low current consumption
Sleep function for whisper quiet operation, including switch-off of the display lighting
Filter change display
Suitable room sizes
LRM 350 15-35 m²
LRM 500 20-50 m²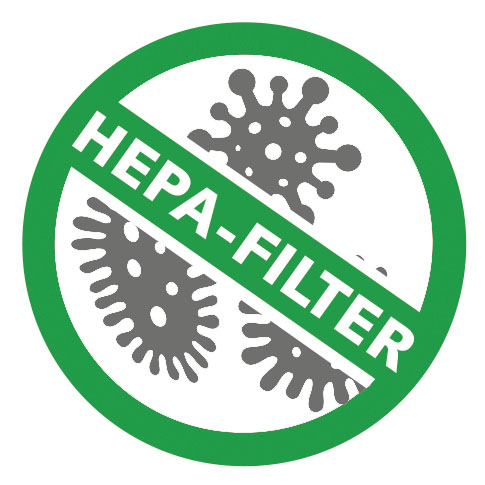 Both coronaviruses and droplets exhaled through the breath can be contained by HEPA filters.
With integrated display to show the current air quality
4-stage HEPA filter system
REMKO's 4-stage HEPA filter system consists of a combination of 4 special filters, which are able to filter up to 99.975% of virus-laden aerosols and pollutants from room air.
In addition to mechanical filtration, even the smallest particles are attracted to the HEPA filter through the use of electrostatically charged filter fibres. This technology enables lower resistance of the HEPA filter while maintaining the same separation efficiency.
Advantages of the 4-stage HEPA filter system:
Low energy consumption despite high air flow rates
Quiet device operation due to lower fan speeds
Low maintenance costs thanks to cost-effective replacement filters
Special filters from the left: HEPA filter, activated carbon grnaulate cartridge, Foam filter pad, Nylon prefilter
With normal operation (12/7), the filter set has a service life of one year.
With intensive operation (24/7), the filter set has a service life of a half year.
| Variant | LRM 350 | LRM 500 |
| --- | --- | --- |
| Air flow rate speed settings | 101/150/210/325 m³/h | 130/210/290/457 m³/h |
| Area of application: Room area, speed settings | - / 15-20 / 20-28 / 28-35 m² | - / 20-30 / 30-40 / 40-50 m² |
| Working range | 5-50 °C / 35-75 %r.F. | 5-50 °C / 35-75 %r.F. |
| Power supply | 230/1~/50 | 230/1~/50 |
| Electrical protection class | IP20 | IP20 |
| Sound pressure level per speed setting | 28/39/45/59 dB(A) | 29/40/45/59 dB(A) |
| Colour (ETIM) | White | White |
| Dimensions H/W/D | 617/400/190 mm | 682/440/190 mm |
Accessories / Spare parts
Für dieses Gerät stehen kein Ersatzteile zur Verfügung.