Oil/gas heating system CLK 30-70
Oil/gas heating system CLK 120-150
Oil/gas heating system CLK 80-RV
Oil/gas heating system CLK 170-RV
REMKO CLK SERIES Oil/gas heating systems
Variant
EDV-Nr.
Rated thermal capacity
CLK 30
CLK 30 oil burner
CLK 30 propane gas burner
121500
121700
121600
26,5 kW
CLK 50
CLK 50 oil burner
CLK 50 propane gas burner
123500
123700
123600
42,0 kW
CLK 70
CLK 70 oil burner
CLK 70 propane gas burner
125500
125700
125600
62,0 kW
CLK 120
CLK 120 oil burner
CLK 120 propane gas burner
127500
127700
127600
105,0 kW
CLK 150
CLK 150 oil burner
CLK 150 propane gas burner
130500
130700
130600
138,0 kW
CLK 80-RV
CLK 80-RV oil burner
131100
131300
77,0 kW
CLK 170-RV
CLK 170-RV oil burner
131500
131700
144,0 kW
---
REMKO CLK SERIES
Versatile application possibilities for construction site heating
In case of sudden cold or undelayable, scheduled work, the heaters of the CLK series bring the necessary heat to wherever it is desired. This makes construction independent of the weather because construction on a deadline means that work may be performed during the cold season. Structures, materials, and workstations must then be protected. The mobile devices must be in place only during the desired operating time to provide immediate heat when needed without a preheating time.
Oil burner, brand product of our choice, can be exchanged within minutes
Extremely low exhaust gas losses and thus higher combustion-technical efficiency and optimum efficiency
Plug connection for control of room thermostat
Electrical oil preheating
Automatic fan direction of rotation control (CLK 170-RV)
Fork lift support rails (optional)
Closed combustion chamber housing
For a flourishing and blossoming garden
No other heating system can be used so optimally in glass or plastic film greenhouses as our heating systems. This applies on the one hand for the exact determination of the appropriate device in regard to the size of the greenhouse and the heat output and for the desired operating time on the other. If required, the equipment creates heat without a preheating time as in the case of conventional warm water heating systems or other heating centres. This means a reduction in the energy requirement and thus considerable cost savings.
Numerous possibilities of hot air distribution with mobile power driver
The CLK equipment series can be called a true power driver without exaggeration. These units are the most efficient mobile REMKO heaters with specially optimised sickle fans. Efficient with high delivery pressure for the connection of hot air tubes.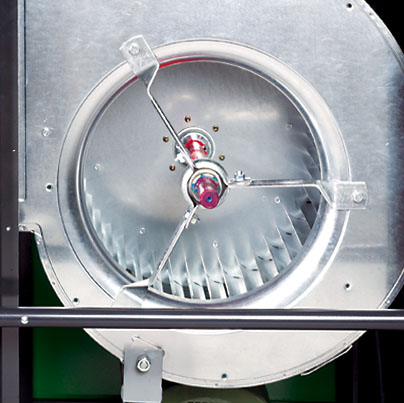 Technical data
| Variant | CLK 30 | CLK 30 oil burner | CLK 30 propane gas burner | CLK 50 | CLK 50 oil burner | CLK 50 propane gas burner | CLK 70 | CLK 70 oil burner | CLK 70 propane gas burner | CLK 120 | CLK 120 oil burner | CLK 120 propane gas burner | CLK 150 | CLK 150 oil burner | CLK 150 propane gas burner | CLK 80-RV | CLK 80-RV oil burner | CLK 170-RV | CLK 170-RV oil burner |
| --- | --- | --- | --- | --- | --- | --- | --- | --- | --- | --- | --- | --- | --- | --- | --- | --- | --- | --- | --- |
| Nominal heat load max. | 29 kW | 29 kW | 29 kW | 46 kW | 46 kW | 46 kW | 68 kW | 68 kW | 68 kW | 114 kW | 114 kW | 114 kW | 150 kW | 150 kW | 150 kW | 84 kW | 84 kW | 155 kW | 155 kW |
| Nominal heat power | 26,5 kW | 26,5 kW | 26,5 kW | 42 kW | 42 kW | 42 kW | 62 kW | 62 kW | 62 kW | 105 kW | 105 kW | 105 kW | 138 kW | 138 kW | 138 kW | 77 kW | 77 kW | 144 kW | 144 kW |
| Air volume | 1.760 m³/h | 1.760 m³/h | 1.760 m³/h | 3.050 m³/h | 3.050 m³/h | 3.050 m³/h | 4.920 m³/h | 4.920 m³/h | 4.920 m³/h | 8.050 m³/h | 8.050 m³/h | 8.050 m³/h | 9.710 m³/h | 9.710 m³/h | 9.710 m³/h | 6.140 m³/h | 6.140 m³/h | 10.340 m³/h | 10.340 m³/h |
| Pressure, max. total | 90 Pa | 90 Pa | 90 Pa | 145 Pa | 145 Pa | 145 Pa | 165 Pa | 165 Pa | 165 Pa | 220 Pa | 220 Pa | 220 Pa | 260 Pa | 260 Pa | 260 Pa | 410 Pa | 410 Pa | 520 Pa | 520 Pa |
| Fuel | - | Heizöl EL/Diesel | Flüssiggas I3B/P | - | Heizöl EL/Diesel | Flüssiggas I3B/P | - | Heizöl EL/Diesel | Flüssiggas I3B/P | - | Heizöl EL/Diesel | Flüssiggas I3B/P | - | Heizöl EL/Diesel | Flüssiggas I3B/P | - | Heizöl EL/Diesel | - | Heizöl EL/Diesel |
| Fuel consumption max. | - l/h | 2,85 l/h | - l/h | - l/h | 4,5 l/h | - l/h | - l/h | 6,6 l/h | - l/h | - l/h | 11,8 l/h | - l/h | - l/h | 14,8 l/h | - l/h | - l/h | 8,3 l/h | - l/h | 15,5 l/h |
| Device connected load | - kg/h | - kg/h | 2,3 kg/h | - kg/h | - kg/h | 3,6 kg/h | - kg/h | - kg/h | 5,3 kg/h | - kg/h | - kg/h | 8,9 kg/h | - kg/h | - kg/h | 11,7 kg/h | - kg/h | - kg/h | - kg/h | - kg/h |
| Nozzle | - USG | 0,6/60°S USG | - USG | - USG | 1,00/60°S USG | - USG | - USG | 1,35/60°S USG | - USG | - USG | 2,25/80°S USG | - USG | - USG | 2,75/80°S USG | - USG | - USG | 1,75/60°S USG | - USG | 3,00/80°S USG |
| Operating gas pressure | - bar | 11,00 bar | 0,05 bar | - bar | 11,0 bar | 0,05 bar | - bar | 12,0 bar | 0,05 bar | - bar | 12,0 bar | 0,05 bar | - bar | 14,0 bar | 0,05 bar | - bar | 12 bar | - bar | 13 bar |
| Exhaust gas flow | - kg/h | - kg/h | - kg/h | - kg/h | - kg/h | - kg/h | - kg/h | - kg/h | - kg/h | - kg/h | - kg/h | - kg/h | - kg/h | - kg/h | - kg/h | - kg/h | 136 kg/h | - kg/h | 240 kg/h |
| Exhaust gas loss max. | - % | 9 % | 8 % | - % | 9 % | 8 % | - % | 9 % | 8 % | - % | 9 % | 8 % | - % | 9 % | 8 % | - % | 9 % | - % | 9 % |
| Power supply | 230/1~/50 V/Ph/Hz | 230/1~/50 V/Ph/Hz | 230/1~/50 V/Ph/Hz | 230/1~/50 V/Ph/Hz | 230/1~/50 V/Ph/Hz | 230/1~/50 V/Ph/Hz | 230/1~/50 V/Ph/Hz | 230/1~/50 V/Ph/Hz | 230/1~/50 V/Ph/Hz | 230/1~/50 V/Ph/Hz | 230/1~/50 V/Ph/Hz | 230/1~/50 V/Ph/Hz | 230/1~/50 V/Ph/Hz | 230/1~/50 V/Ph/Hz | 230/1~/50 V/Ph/Hz | 230/1~/50 V/Ph/Hz | 230/1~/50 V/Ph/Hz | 400/3~N/50 V/Ph/Hz | 400/3N~/50 V/Ph/Hz |
| Total power input | 0,37 kW | 0,37 kW | 0,37 kW | 0,42 kW | 0,42 kW | 0,42 kW | 0,86 kW | 0,86 kW | 0,86 kW | 1,80 kW | 1,80 kW | 1,80 kW | 1,90 kW | 1,90 kW | 1,90 kW | 1,80 kW | 1,80 kW | 3,4 kW | 3,4 kW |
| Electr. nominal current consumption | 1,8 A | 1,8 A | 1,8 A | 2,0 A | 2,0 A | 2,0 A | 4,0 A | 4,0 A | 4,0 A | 8,2 A | 8,2 A | 8,2 A | 8,8 A | 8,8 A | 8,8 A | 9,5 A | 9,5 A | 8,4 A | 8,4 A |
| Fuse protection (on side) | 10 A | 10 A | 10 A | 10 A | 10 A | 10 A | 10 A | 10 A | 10 A | 16 A | 16 A | 16 A | 16 A | 16 A | 16 A | 16 A | 16 A | 16 A | 16 A |
| Sound pressure level | 54 dB(A) | 54 dB(A) | 54 dB(A) | 61 dB(A) | 61 dB(A) | 61 dB(A) | 61 dB(A) | 61 dB(A) | 61 dB(A) | 72 dB(A) | 72 dB(A) | 72 dB(A) | 72 dB(A) | 72 dB(A) | 72 dB(A) | 62 dB(A) | 62 dB(A) | 65 dB(A) | 65 dB(A) |
| Ø air-inlet, accessory HTL | - mm | - mm | - mm | - mm | - mm | - mm | - mm | - mm | - mm | - mm | - mm | - mm | - mm | - mm | - mm | 2 x 400 mm | 2 x 400 mm | 2 x 500 mm | 2 x 500 mm |
| Air outlet Ø | 300 mm | 300 mm | 300 mm | 300 mm | 300 mm | 300 mm | 400 mm | 400 mm | 400 mm | 500 mm | 500 mm | 500 mm | 500 mm | 500 mm | 500 mm | 400 mm | 400 mm | 500 mm | 500 mm |
| Exhaust connection Ø | 150 mm | 150 mm | 150 mm | 150 mm | 150 mm | 150 mm | 150 mm | 150 mm | 150 mm | 200 mm | 200 mm | 200 mm | 200 mm | 200 mm | 200 mm | 150 mm | 150 mm | 200 mm | 200 mm |
| Dimensions h/w/d | 1000/660/1450 mm | 1000/660/1450 mm | 1000/660/1450 mm | 1000/660/1450 mm | 1000/660/1450 mm | 1000/660/1450 mm | 1120/730/1610 mm | 1120/730/1610 mm | 1120/730/1610 mm | 1350/920/2100 mm | 1350/920/2100 mm | 1350/920/2100 mm | 1350/920/2100 mm | 1350/920/2100 mm | 1350/920/2100 mm | 1160/800/2000 mm | 1160/800/2000 mm | 1350/920/2380 mm | 1350/920/2380 mm |
| Weight | 112 kg | 126 kg | 125 kg | 118 kg | 132 kg | 131 kg | 158 kg | 172 kg | 171 kg | 275 kg | 296 kg | 295 kg | 291 kg | 312 kg | 311 kg | 220 kg | 234 kg | 354 kg | 375 kg |
Accessories / Spare parts