Wall-mounted caloric value heating system GPC 20-40
Wall-mounted caloric value heating system GPC 60-80
REMKO GPC SERIES Wall-mounted caloric value heating systems with modulating gas burner in condensing design
Variant
EDV-Nr.
Rated thermal capacity
GPC 20 Natural gas H
GPC 20 Natural gas L
GPC 20 Propane gas
224331
224332
224333
5,0-18,2 kW
GPC 40 Natural gas H
GPC 40 Natural gas L
GPC 40 Propane gas
224341
224342
224343
8,1-33,6 kW
GPC 60 Natural gas H
GPC 60 Natural gas L
GPC 60 Propane gas
224361
224362
224363
13,4-62,9 kW
GPC 80 Natural gas H
GPC 80 Natural gas L
GPC 80 Propane gas
224371
224372
224373
17,8-80,0 kW
---
REMKO GPC SERIES
Hall heating with the highest energy efficiency
The REMKO series is characterised by their compact dimensions, flexible application possibilities, and particularly by their microprocessor controlled gas burner technology. A total of four unit sizes with a heating capacity from 4.7 to 82.0 kW is available. The units are suitable for both wall and ceiling mounting. A variety of exhaust gas and fresh air versions rounds out the flexible installation possibility of this series of units.
Achieve maximum output
With the gross caloric value technology, additional energy is removed from the exhaust gas through condensation. In the process, the efficiency is optimized to a maximum.
High energy efficiency with condensing design and modulating gas burner technology
Highly flexible applications
Space-saving mounting on the wall or ceiling
Rapid, cost-effective installation
Sound-optimized through series-standard Ziehl-Abegg fans
Combustion chamber in INOX steel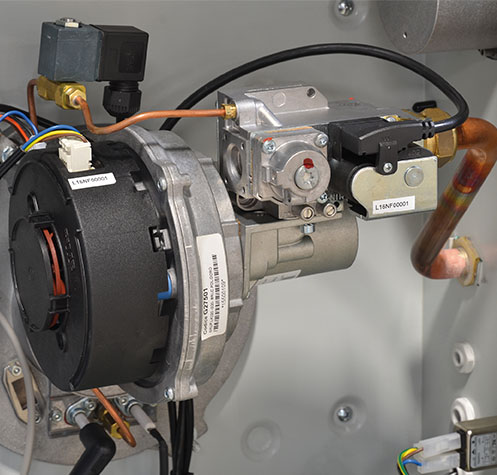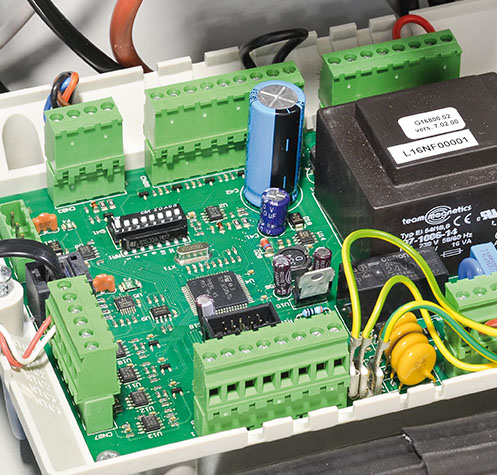 Technical data
| Variant | GPC 20 Natural gas H | GPC 20 Natural gas L | GPC 20 Propane gas | GPC 40 Natural gas H | GPC 40 Natural gas L | GPC 40 Propane gas | GPC 60 Natural gas H | GPC 60 Natural gas L | GPC 60 Propane gas | GPC 80 Natural gas H | GPC 80 Natural gas L | GPC 80 Propane gas |
| --- | --- | --- | --- | --- | --- | --- | --- | --- | --- | --- | --- | --- |
| Nominal heat load max. | 4,7 - 19,0 kW | 4,7 - 19,0 kW | 4,7 - 19,0 kW | 7,6 - 34,8 kW | 7,6 - 34,8 kW | 7,6 - 34,8 kW | 12,4 - 65,0 kW | 12,4 - 65,0 kW | 12,4 - 65,0 kW | 16,4 - 82,0 kW | 16,4 - 82,0 kW | 16,4 - 82,0 kW |
| Nominal heat power | 5,0 - 18,2 kW | 5,0 - 18,2 kW | 5,0 - 18,2 kW | 8,1 - 33,6 kW | 8,1 - 33,6 kW | 8,1 - 33,6 kW | 13,4 - 62,9 kW | 13,4 - 62,9 kW | 13,4 - 62,9 kW | 17,8 - 80,0 kW | 17,8 - 80,0 kW | 17,8 - 80,0 kW |
| Air volume | 2.700 m³/h | 2.700 m³/h | 2.700 m³/h | 4.300 m³/h | 4.300 m³/h | 4.300 m³/h | 7.800 m³/h | 7.800 m³/h | 7.800 m³/h | 9.000 m³/h | 9.000 m³/h | 9.000 m³/h |
| Air flow range | 24 m | 24 m | 24 m | 26 m | 26 m | 26 m | 28 m | 28 m | 28 m | 28 m | 28 m | 28 m |
| Sound pressure level at 6 m distance | 44 dB(A) | 44 dB(A) | 44 dB(A) | 49 dB(A) | 49 dB(A) | 49 dB(A) | 51 dB(A) | 51 dB(A) | 51 dB(A) | 54 dB(A) | 54 dB(A) | 54 dB(A) |
| Fuel | Erdgas H | Erdgas L | Flüssiggas I3B/P | Erdgas H | Erdgas L | Flüssiggas | Erdgas H | Erdgas L | Flüssiggas | Erdgas H | Erdgas L | Flüssiggas |
| Fuel consumption propane gas | - kg/h | - kg/h | 0,40 - 1,58 kg/h | - kg/h | - kg/h | 0,63 - 2,90 kg/h | - kg/h | - kg/h | 1,03 - 5,39 kg/h | - kg/h | - kg/h | 1,49 - 6,80 kg/h |
| Fuel consumption nat. gas H | 0,51 - 2,01 m³/h | - m³/h | - m³/h | 0,80 - 3,69 m³/h | - m³/h | - m³/h | 1,31 - 6,88 m³/h | - m³/h | - m³/h | 1,74 - 8,68 m³/h | - m³/h | - m³/h |
| Fuel consumption nat. gas L | - m³/h | 0,59 - 2,34 m³/h | - m³/h | - m³/h | 0,93 - 4,29 m³/h | - m³/h | - m³/h | 1,53 - 8,00 m³/h | - m³/h | - m³/h | 2,02 - 10,1 m³/h | - m³/h |
| Exhaust gas flow | 31 kg/h | 31 kg/h | 24 kg/h | 57 kg/h | 57 kg/h | 45 kg/h | 107 kg/h | 107 kg/h | 84 kg/h | 135 kg/h | 135 kg/h | 107 kg/h |
| Exhaust gas loss max. | 8 % | 8 % | 8 % | 8 % | 8 % | 8 % | 8 % | 8 % | 8 % | 8 % | 8 % | 8 % |
| Condensate | 0,4 l/h | 0,4 l/h | 0,4 l/h | 0,9 l/h | 0,9 l/h | 0,9 l/h | 2,1 l/h | 2,1 l/h | 2,1 l/h | 3,3 l/h | 3,3 l/h | 3,3 l/h |
| Power supply | 230/1~/50 V/Ph/Hz | 230/1~/50 V/Ph/Hz | 230/1~/50 V/Ph/Hz | 230/1~/50 V/Ph/Hz | 230/1~/50 V/Ph/Hz | 230/1~/50 V/Ph/Hz | 230/1~/50 V/Ph/Hz | 230/1~/50 V/Ph/Hz | 230/1~/50 V/Ph/Hz | 230/1~/50 V/Ph/Hz | 230/1~/50 V/Ph/Hz | 230/1~/50 V/Ph/Hz |
| Electr. nominal power consumption | 0,180 kW | 0,180 kW | 0,180 kW | 0,310 kW | 0,310 kW | 0,310 kW | 0,510 kW | 0,510 kW | 0,510 kW | 0,613 kW | 0,613 kW | 0,613 kW |
| Auxiliary power intake max. | 0,045 kW | 0,045 kW | 0,045 kW | 0,074 kW | 0,074 kW | 0,074 kW | 0,097 kW | 0,097 kW | 0,097 kW | 0,123 kW | 0,123 kW | 0,123 kW |
| Auxiliary power intake min. | 0,011 kW | 0,011 kW | 0,011 kW | 0,011 kW | 0,011 kW | 0,011 kW | 0,015 kW | 0,015 kW | 0,015 kW | 0,040 kW | 0,040 kW | 0,040 kW |
| Auxiliary power intake in the SB | 0,005 kW | 0,005 kW | 0,005 kW | 0,005 kW | 0,005 kW | 0,005 kW | 0,005 kW | 0,005 kW | 0,005 kW | 0,005 kW | 0,005 kW | 0,005 kW |
| Electr. nominal current consumption | 0,78 A | 0,78 A | 0,78 A | 1,35 A | 1,35 A | 1,35 A | 2,22 A | 2,22 A | 2,22 A | 2,67 A | 2,67 A | 2,67 A |
| Utilization efficiency at nominal heat output | 86,2 % | 86,2 % | 86,2 % | 86,8 % | 86,8 % | 86,8 % | 87,2 % | 87,2 % | 87,2 % | 87,9 % | 87,9 % | 87,9 % |
| Utilization efficiency at minimum performance | 94,3 % | 94,3 % | 94,3 % | 96,4 % | 96,4 % | 96,4 % | 97,4 % | 97,4 % | 97,4 % | 97,6 % | 97,6 % | 97,6 % |
| Nitrogen oxide emissions | 34 mg/kWh | 34 mg/kWh | 34 mg/kWh | 38 mg/kWh | 38 mg/kWh | 42 mg/kWh | 35 mg/kWh | 35 mg/kWh | 35 mg/kWh | 37 mg/kWh | 37 mg/kWh | 37 mg/kWh |
| Efficiency heat emission | 91,5 % | 91,5 % | 91,5 % | 94,8 % | 94,8 % | 94,8 % | 95,8 % | 95,8 % | 95,8 % | 96,1 % | 96,1 % | 96,1 % |
| Space heating seasonal performance factor | 88,9 % | 88,9 % | 88,9 % | 92,1 % | 92,1 % | 92,1 % | 93,2 % | 93,2 % | 93,2 % | 93,1 % | 93,1 % | 93,1 % |
| Air connection (combustion chamber) Ø | 80 mm | 80 mm | 80 mm | 80 mm | 80 mm | 80 mm | 80 mm | 80 mm | 80 mm | 100 mm | 100 mm | 100 mm |
| Exhaust connection Ø | 80 mm | 80 mm | 80 mm | 80 mm | 80 mm | 80 mm | 80 mm | 80 mm | 80 mm | 100 mm | 100 mm | 100 mm |
| Dimensions h/w/d | 690/500/795 mm | 690/500/795 mm | 690/500/795 mm | 690/500/985 mm | 690/500/985 mm | 690/500/985 mm | 765/500/1310 mm | 765/500/1310 mm | 765/500/1310 mm | 845/500/1515 mm | 845/500/1515 mm | 845/500/1515 mm |
| Weight | 58 kg | 58 kg | 58 kg | 72 kg | 72 kg | 72 kg | 98 kg | 98 kg | 98 kg | 129 kg | 129 kg | 129 kg |
Accessories / Spare parts