Hot water heating system PWW 30-100
REMKO PWW SERIES Hot water heating systems as a supplement to warm water heating plants
| | | |
| --- | --- | --- |
| PWW 30-2 | 1686010 | |
| PWW 30-3 | 1686020 | |
| PWW 30-4 | 1686030 | |
| PWW 30-6 | 1686033 | |
| PWW 50-2 | 1686040 | |
| PWW 50-3 | 1686050 | |
| PWW 50-4 | 1686060 | |
| PWW 50-6 | 1686063 | |
| PWW 80-2 | 1686070 | |
| PWW 80-3 | 1686080 | |
| PWW 80-4 | 1686090 | |
| PWW 80-6 | 1686093 | |
| PWW 100-2 | 1686100 | |
| PWW 100-3 | 1686110 | |
| PWW 100-4 | 1686120 | |
| PWW 100-6 | 1686123 | |
---
REMKO PWW SERIES
Best suited for warehouses and supermarkets
The sophisticated design is suitable for both wall and ceiling installation. With a heat output of 4 to 135 kW, an optimum expansion of existing or planned hot water heating systems is possible at any time. Easily attachable mounting brackets permit a fast installation of the devices.
The load-bearing, galvanised, solid steel sheet housings are already supplied. The air discharge fins are individually infinitely variable. The heat exchangers are delivered with a copper-aluminium finish. REMKO PWW units are designed for warm and hot pump water at temperatures up to 110°C and a max. permissible operating pressure of 16 bar. An aerodynamically shaped, silent Ziehl-Abegg sickle-shaped axial fan with a maintenance-free three-phase two-speed external rotor motor is installed as standard.
Fitted as standard with a Ziehl-Abegg sickle-shaped axial fan
Speed range regulation, 2-way and 5-way (optional)
Low spatial requirements
Extremely low noise by using optimum coordinated components
Extremely easy to service
Painted design (optional)
Injection vent An economic extension
The supply air is optimally injected via the injection vent; the position of the air deflection vent influences the air velocity and the outlet temperature of the total air flow. With this technology, these PWW devices achieve larger penetration distances and faster heating of the warehouses to be climatized. The suction of the already heated room air results in the fact that different climatized air layers cannot rise. It creates uniformly distributed heating of the room.
The subsequent installation of the injection vent on your device is possible without difficulty and without much effort. The slat position can be controlled electrically via an optional control.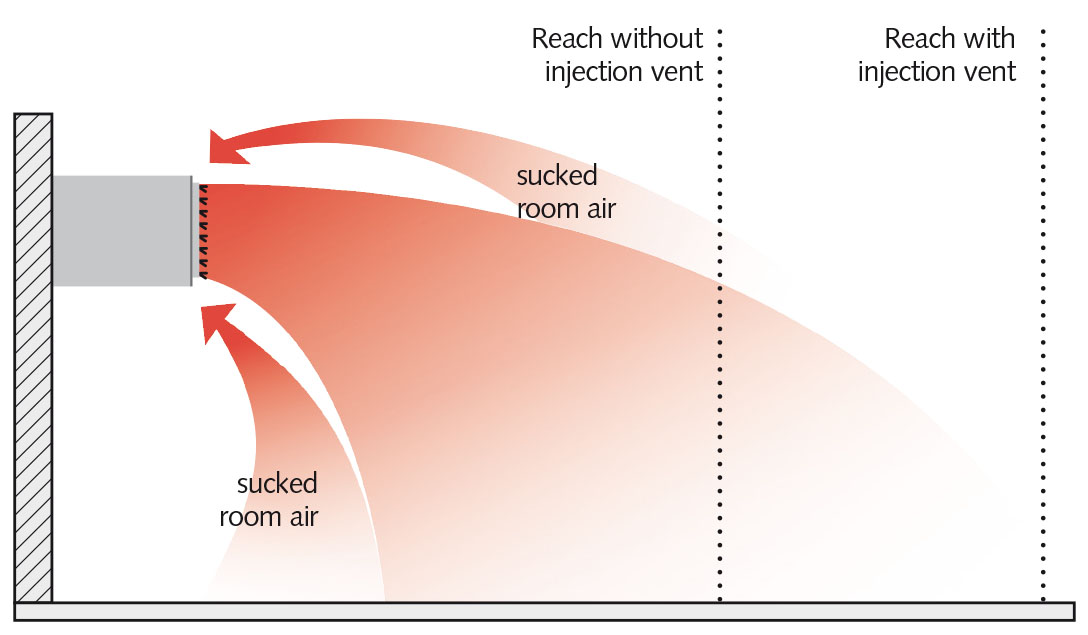 Technical data
| Variant | PWW 30-2 | PWW 30-3 | PWW 30-4 | PWW 30-6 | PWW 50-2 | PWW 50-3 | PWW 50-4 | PWW 50-6 | PWW 80-2 | PWW 80-3 | PWW 80-4 | PWW 80-6 | PWW 100-2 | PWW 100-3 | PWW 100-4 | PWW 100-6 |
| --- | --- | --- | --- | --- | --- | --- | --- | --- | --- | --- | --- | --- | --- | --- | --- | --- |
| Heating capacity for 55/45 and 15°C air inlet | 6,4 / 7,2 kW | 8,3 / 9,4 kW | 9,4 / 11,0 kW | 10,5 / 12,7 kW | 10,2 / 11,4 kW | 13,1 / 14,8 kW | 15,5 / 17,6 kW | 18,0 / 21,0 kW | 17,1 / 19,5 kW | 22,5 / 25,7 kW | 27,3 / 33,0 kW | 27,3 / 33,0 kW | 25,4 / 29,1 kW | 32,7 / 38,0 kW | 38,2 / 45,0 kW | 40,8 / 50,9 kW |
| Heating capacity for 70/50 and 15°C air inlet | 7,7 / 8,7 kW | 10,1 / 11,4 kW | 11,7 / 13,5 kW | 13,3 / 16,1 kW | 12,2 / 13,6 kW | 15,9 / 17,9 kW | 19,0 / 21,5 kW | 22,9 / 26,6 kW | 21,0 / 23,8 kW | 27,8 / 31,5 kW | 31,5 / 36,5 kW | 35,1 / 42,3 kW | 31,2 / 35,6 kW | 40,6 / 46,9 kW | 47,9 / 56,1 kW | 52,5 / 65,2 kW |
| Heating medium temperatur | Wasser bis 80°C °C | Wasser bis 80°C °C | Wasser bis 80°C °C | Wasser bis 80°C °C | Wasser bis 80°C °C | Wasser bis 80°C °C | Wasser bis 80°C °C | Wasser bis 80°C °C | Wasser bis 110°C °C | Wasser bis 110°C °C | Wasser bis 110°C °C | Wasser bis 110°C °C | Wasser bis 110°C °C | Wasser bis 110°C °C | Wasser bis 110°C °C | Wasser bis 110°C °C |
| Operation pressure | 16 bar | 16 bar | 16 bar | 16 bar | 16 bar | 16 bar | 16 bar | 16 bar | 16 bar | 16 bar | 16 bar | 16 bar | 16 bar | 16 bar | 16 bar | 16 bar |
| Air volume | 1.660 / 2.140 m³/h | 1.550 / 1.950 m³/h | 1.380 / 1.760 m³/h | 1.230 / 1.620 m³/h | 2.850 / 3.610 m³/h | 2.850 / 3.230 m³/h | 2.420 / 2.990 m³/h | 2.230 / 2.790 m³/h | 4.260 / 5.500 m³/h | 4.070 / 5.120 m³/h | 3.540 / 4.490 m³/h | 3.110 / 4.080 m³/h | 6.350 / 8.600 m³/h | 5.990 / 7.820 m³/h | 5.580 / 7.280 m³/h | 4.760 / 6.570 m³/h |
| Air flow range | 14 / 17 m | 13 / 16 m | 12 / 15 m | 11 / 13 m | 18 / 22 m | 16,5 / 20 m | 16 / 18 m | 14 / 17 m | 19 / 25 m | 19 / 23 m | 16 / 21 m | 15 / 19 m | 30 / 35 m | 26 / 32 m | 25 / 30 m | 22 / 27 m |
| Sound pressure level | 46 / 52 dB(A) | 48 / 53 dB(A) | 49 / 55 dB(A) | 50 / 57 dB(A) | 50 / 55 dB(A) | 51 / 55 dB(A) | 54 / 58 dB(A) | 54 / 58 dB(A) | 49 / 55 dB(A) | 49 / 55 dB(A) | 49 / 55 dB(A) | 49 / 55 dB(A) | 54 / 58 dB(A) | 54 / 58 dB(A) | 55 / 59 dB(A) | 55 / 59 dB(A) |
| Power supply | 400/3~N/50 V/Ph/Hz | 400/3~N/50 V/Ph/Hz | 400/3~N/50 V/Ph/Hz | 400/3~N/50 V/Ph/Hz | 400/3~N/50 V/Ph/Hz | 400/3~N/50 V/Ph/Hz | 400/3~N/50 V/Ph/Hz | 400/3~N/50 V/Ph/Hz | 400/3~N/50 V/Ph/Hz | 400/3~N/50 V/Ph/Hz | 400/3~N/50 V/Ph/Hz | 400/3~N/50 V/Ph/Hz | 400/3~N/50 V/Ph/Hz | 400/3~N/50 V/Ph/Hz | 400/3~N/50 V/Ph/Hz | 400/3~N/50 V/Ph/Hz |
| Electr. nominal power consumption | 0,14 / 0,19 kW | 0,14 / 0,19 kW | 0,14 / 0,19 kW | 0,14 / 0,19 kW | 0,19 / 0,28 kW | 0,19 / 0,28 kW | 0,19 / 0,28 kW | 0,19 / 0,28 kW | 0,21 / 0,34 kW | 0,21 / 0,34 kW | 0,21 / 0,34 kW | 0,21 / 0,34 kW | 0,44 / 0,62 kW | 0,44 / 0,62 kW | 0,44 / 0,62 kW | 0,44 / 0,62 kW |
| Electr. nominal current consumption | 0,23 / 0,40 A | 0,23 / 0,4 A | 0,23 / 0,40 A | 0,23 / 0,40 A | 0,31 / 0,58 A | 0,31 / 0,58 A | 0,31 / 0,58 A | 0,31 / 0,58 A | 0,38 / 0,70 A | 0,38 / 0,70 A | 0,38 / 0,70 A | 0,38 / 0,70 A | 0,75 / 1,25 A | 0,75 / 1,25 A | 0,75 / 1,25 A | 0,75 / 1,25 A |
| Connectron | R 3/4 inch | R 1 inch | R 1 1/4 inch | R 1 1/4 inch | R 3/4 inch | R 1 inch | R 1 1/4 inch | R 1 1/4 inch | R 1 inch | R 1 1/4 inch | R 1 1/4 inch | R 1 1/4 inch | R 1 1/4 inch | R 1 1/2 inch | R 1 1/2 inch | R 1 1/2 inch |
| Weight | 24 kg | 25 kg | 28 kg | 30 kg | 31 kg | 33 kg | 36 kg | 39 kg | 42 kg | 46 kg | 48 kg | 54 kg | 55 kg | 59 kg | 64 kg | 71 kg |
| Design | 2-stufig | 2-stufig | 2-stufig | 2-stufig | 2-stufig | 2-stufig | 2-stufig | 2-stufig | 2-stufig | 2-stufig | 2-stufig | 2-stufig | 2-stufig | 2-stufig | 2-stufig | 2-stufig |
Accessories / Spare parts